Well I got pretty far off the Fufluns track today. And it feels like I didn't accomplish much. Oh right, I wasted a lot of time getting the Map editor settings menu to display correctly regardless of window size. In fact I threw away my first attempt. The generic menu code, especially for positioning and sizing menus is IMO the most problematic code in the whole engine. It always seems to be impeding me.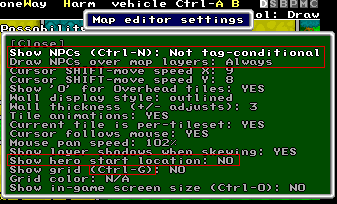 New features highlighted.
You can now have NPCs display in all edit modes, which is useful because they are often using instead of tiles for parts of the map. You can also control whether NPCs appear above all map layers (default for NPC placement mode) or with correct layering.
Hitting Ctrl-N to cycle NPC visibility modes: All, Not tag-conditioned, None.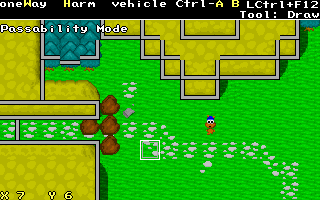 Also fixed positioning of non-20x20 NPCs in exported map images (a feature I think many people don't know about).
And then started on something actually important for Fufluns (though James already struck it off as a blocker): a workaround for slow minimap generation/map preview. While I know to optimise it, it's a bit involved, so instead I'm just going to make minimaps generate a bit at a time instead of freezing the program.