Playing around with pixel-based movement, the 'use door()' command is proving to cause a bit of complication, likely due to its automatic wait tick. For this and other reasons, I'm using 'teleport to map()' instead. Obviously, this command typically doesn't look as nice because of how instant it is, right? Well I've got the solution to that.
The ability to dissolve sprites in the new release has a plethora of aesthetic uses, as I'm discovering. This is the one I'm working with now.
Code:

#Make a slice collection with a backdrop sprite
#of a solid color (the default should be white)
#and give it the lookup code "fade"

plotscript, fancy fade out, begin
suspend player

variable(col, fade)

col := load slice collection(#)
fade := lookup slice(sli:fade,col)

dissolve sprite(fade,dissolve:random scatter,10,0,true) ###5th argument sets dissolve backwards
wait(10)

teleport to map(get door destination(#),get door x(#),get door y(#))

dissolve sprite(fade,dissolve:random scatter,10,0,false) ###
wait(10)

free slice(col)
resume player
end



All you have to do is make the proper slice collection and set the data for the doors however you like. This script will make a 10 tick fade from transparent to white, teleport the player, then fade the white away over 10 ticks. I know this may seem like a fairly obvious script to make, but like I said, there are a lot of uses for dissolves.

The different dissolve types all make for really spiffy transitions, and would probably be useful for cutscenes or entering battles as well. I think this would be a great, simple way to customize the look of your game without much struggle.

I hope someone else finds this useful or interesting.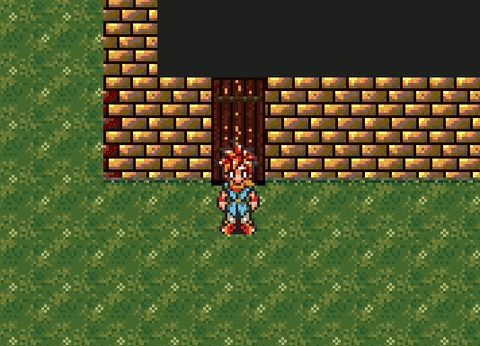 ---
I can't write in cursive.