I'm releasing Slimes!
-If you happened to find a bug, of any sort, please write about it here. I want slimes to be the best game it can be and will continue to update it until it's as near to perfect as possible.
- The level creator is in the game. However, you have to beat all 50 levels to unlock it.
- Be careful saving your game, I've included several fail safe scripts so games won't become erased, but "X"ing out at random might result in minor data corruption. ( nothing to worry about really, this has never resulted in the loss of game data )
-------------------------------------------------------------------------
I've decided to transfer my development updates for slimes from the
journal on Castle Paradox,
, to here.
For those of you that don't know, Slimes is a Lemmings style game. Meaning, with your mouse, you use various tools to stop the slimes from marching to their death and to instead have them march to an exit point, and it all looks a little something like this: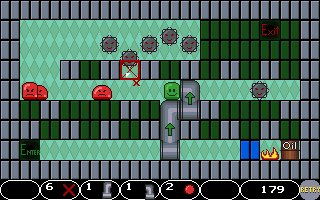 I'm currently done with all 50 of the stages that will appear in the game. However, I'm not sending it out the release gates just yet. There's still a few more things left to do.
1. I need a song for the credits.
(I originally had someone writing one for me but they've bailed. I really like the idea of a song with lyrics about slimes being played during the credits. This might not happen.)
2. The Level creator needs to be done. This has given me a bit of trouble. The current one is riddled with bugs and I might have to start from scratch. I'd like to include this feature but it may be released after the first launch as sort of an expansion, or something. If that happens, I'll most likely add more levels and/or interactive objects to be included in it.
3. There are a couple bugs and general game weaknesses I'd like to completely fix before launching. None of them are really that big a deal ( most players, most likely, wouldn't even notice ) but I'd like the first launch copy to be as bug free as possible ( unlike my first Tim-Tim release )
Other then that, the games looking good. I hope you guys enjoy it when it's done.