Hello out there,
it seems I am unsure which kind of battle system I'd like to implement, presentation wise.
I want to build a rather open gameworld, like many western rpgs do, where you can wander around, discover different new areas and quest lines as you please. Not as open as an elder scrolls game, but a far less linear than most jrpgs.
Also, I don't want to use a overworld map, instead implementing some kind of fast travel system, like e.g. they did in Secret of Mana, or Zelda.
This means:
A) Enemies should be visible and avoidable, as in Lufia II, no random battles. Maybe weak enemies even try to keep their distance from you.
B) Battles should be as non-intrusive as possible, to encourage exploration and wandering around. The battle system should reflect this, e.g. holdinng one button pressed to fastly run through the menus and having every party member using their standard attack so battles don't become a chore, fast and swift animations etc.
While this is all fine and dandy, I am not sure about the visuals.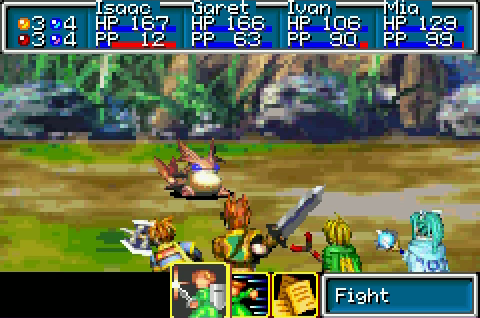 Options 1: Battle Screen
The battle starts, the game switches to the battle screen.
+ Clear visual indication for 'You do Battle, now!'
+ Allows detailed enemy and character sprites & animations, + more dynamic camera (e.g. Golden Sun).
- I obstrusive, the player is ripped from the area he is exploring
Option 2: 'On Site Battle':
The battle is performed on the game map, using normal walkabout sprites (characters are at least 32px in height, to have enough detail), (e.g. Chrono Trigger).
+ Seamless, because there is no visual transition, the fight just begins.
+ Further, the results of the battle might be then visible in the game world (i.e. dead bodies).
+ A bit less artwork to create
- More laberous scripting wise (make sure there is enough space to do the actual fighting etc...)
+ Less detailed sprites and animations for the battle itself
Any idea which you might prefer under those circumstances, and even better, why?