I'm making a bestiary menu for my game with enemy info, here's a quick mockup I did to test the script.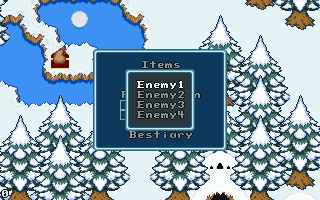 However in order to have the text box show immediately instead of after the main menu closes, I had to enable the "Allow gameplay & scripts" bitset which allows for NPCs and other scripts to continue running. Thing is, this isn't normal menu behavior and I'd really like to not have to do that. And what I need to do is run a script based off of the selected menu item's extra data to put some string sprintf stuff together, before then displaying a text box. So I can't just display a text box and still have the data ready to show.
Any suggestions on how to get around this? Also, ideally I'd like to have a two part menu where one menu is where the player selects a monster's name, and a separate box instantly updates with the enemy info when another enemy is selected. Is there any way to do this with menus, or would it need to be built from scratch?