Darkmoor Dungeon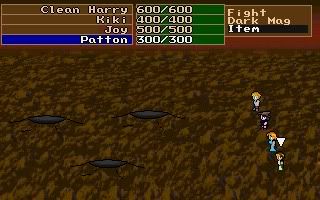 (I have no option here but to kill myself. Yay!)
Darkmoor Dungeon is a rather old game, made by Moogle1, who goes by Mogri nowadays. It tells the epic story of a bunch of dudes fighting some other dudes.
This game is about boss battles, and nothing but. You create a party of four character (in my case, Paladin, Witch, Priest, and Wizard), and start in a dungeon. Your goal is to get out, but there are "battle orbs" blocking your way. Fighting them opens up new paths, and lets you go on to fight new, bossier bosses. You can get items to use, but the only equipment options in the game drop from optional bossier bosses in the second-to-last room, which is a little disappointing.
The Good
Some of these battles are really clever and creative, and show off the potential of the OHR engine really well. Examples include the shroud mage, who can only be hurt by killing a certain one of his minions, which then respawned (It took me a minute to figure out how Moogle1/Mogri did this), and a boss that started with six monsters that insta-killed you, and summoned more, but who somehow wasn't incredibly frustrating.
The graphics are nice, but there's not much to say about them besides that. They're honestly a bit repetitive.
At an hour (not counting many deaths...), this game's rather short, but I consider that a good thing, as it doesn't wear thin.
The Bad
Some battles...less good. In the above picture, for instance, the boss will occasionally hide, and attacking one of the three holes instakills whoever attacked. It's my wizard's turn, I have no non-attack options, and I can't pass. I lost that go round. In the rematch, the boss never hid, making the battle really easy.
Other bad battles include the (recurring!) Cleric Sisters. One revives the other two if there's only one left. You can't spread out your damage, though, because the sisters can heal faster than my party can hurt. The Vengenace boss will occasioanlly use an attack that deals damage equal to what he received since the last time he used it. This requires you to be very careful about when you attack, in theory. In practice, I just spammed safe and regen to make my Paladin invincible, then put some quarters on my enter key for a while. The Basilisk battle was also pretty bad (albeit option), because if they started by petrigassing my Paladin, I'd basically lost. They were the last boss I faced before the disappointingly easy final boss, against which the weapon they dropped was useless. Whoo.
I also didn't like the lack of variety in going into battles. I would've liked equipment to drop earlier. The Magic Shield greatly increased my strategy options, because I had 3 people who could make great use of it, but I didn't get it until way too late in the game.
The dialouge is kind of meh, but this game wasn't marketing for its gripping story, so eh.
The ugly
Potion3 does not heal as advertised, and the Ninja's backstab attack doesn't ignore defense as advertised (as I learned to my great annoyance against an Aigis, which supercharged its defense) which is a surprising mistake in a final version. There were also no battle animations of sound effects when I played (though videos of the game online show they exist, so I'll assume it was some kind of weird compatibility issue)
In conclusion
Darkmoor Dungeon did things with the OHR that were, at the time, new and inventive. Unfortunately, it lacks polish, and leads to a gameplay experience that's often more frustrating than fun.
C+